Consulting Methodology
TCS Group's focus throughout the engagement is to deliver tangible outcomes and practical solutions, this ensures our results meet your organizations business goals.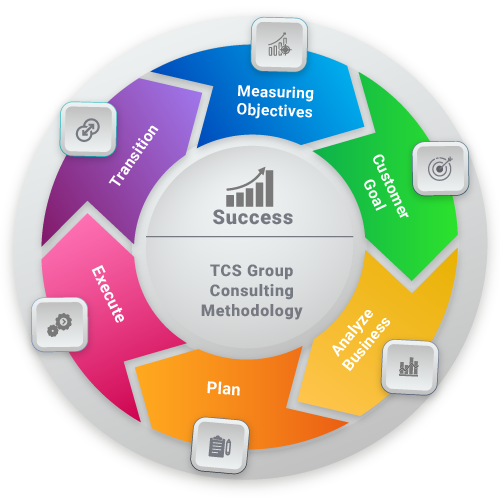 Customer Goal
Clarify customer's overall business goals and objectives.
Analyze Business
Understand the metrics that a customer needs to be successful at their business.
Plan
Develop implementation plan to include scope, budget, risk, communication, milestones and other gating factors for a successful deployment.
Execute
Deliver solution in customer environment addressing design, engineering, operations, and maintenance while providing knowledge transfer and training.
Transition
Document lifecycle guidelines for products and/or services and transition to client or client provider.
Measure Objectives
Continue to analyze customer business goals and objectives, adjust as needed to sustain growth and changing market conditions.
Business and IT Consultant Services Approach
TCS Group's approach is based on the belief that meaningful and sustainable results can only be achieved when there is a clear understanding of the customer's problems. At TCS we partner with various levels of your organization, ensuring that we are working directly with those stakeholders to solve for the right business and technical challenges. From executive leadership, project sponsors, to "hands-on work" with functional teams for implementation, we are committed to working with your organization to bring valuable and long-term results.